YEAR MAKE MODEL SUBMODEL
2007-2013 MAZDA 3 MAZDASPEED L4 2.3


Factory Packaged Product
Manufactured by Injen
• 1 Injen Air intake system (Polished)
• 1 Filter (X-1014-BB)
• Mounting hardware
• Anywhere in USA, CANADA, Mexico, Europe, Germany, Australia and United Kingdom

Dyno Gains of 33.36hp and 35 tq at the wheels!

There are several brands out there when it comes to aftermarket air intake systems, but Injen leads the way in innovation, efficiency, and power gains. Injen Cold Air Intake Systems are more than just a high flow air filter on a less restrictive tube. Featuring Injen's patented MR Technology, Injen incorporates a step process into their intake tubes (meaning they increase or decrease the diameter of the intake tube at strategic points to control airflow). This, coupled with the fact that Injen Injen Air Intakes incorporate your existing sensors, mean you won't have any check engine lights and it is safe for use on your vehicle. This "Factory Tuned" design means you won't need any tuning and makes this truly a bolt on system.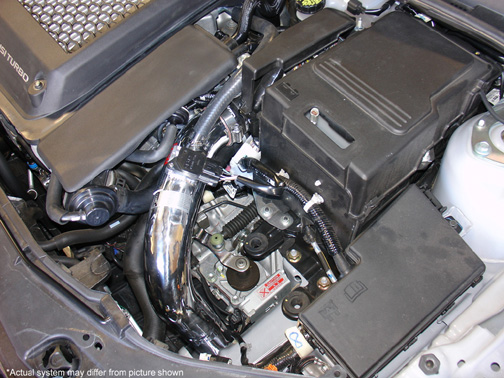 At the end of the Injen Intake is the Injen High Flow Air Filter Element, which is relocated to an area behind your bumper and inner wheel well fender. This strategic placement allows you to obtain colder air while still having the air filter protected from the elements. The Injen air filter that can be cleaned and reused for as long as you own the vehicle. An incorporated velocity stack smooths out airflow to help maximize power gains. Comprehensive installation instructions including photos make installation of your new Injen Intake easy enough to do yourself with basic hand tools in a couple of hours or less. Everything you need to install this air intake is included and the intake comes with a lifetime warranty.
Injen Cold Air Intake Systems exceed OE standards and as a result will not void any existing factory warranties that you may have. Additionally, you'll enjoy increased horsepower and torque, as well as improved throttle response. Fuel economy gains, especially during freeway conditions, are commonly achieved helping the unit to pay for itself over time.
This Injen Cold Air Intake is 50 State street legal. If you are in California, a SMOG technician may ask you for a CARB EO number proving this intake is California emissions approved. The CARB EO Number for this intake is: D-476-5 This EO number will be stamped directly onto your Injen Intake, meaning no hassles at inspection time.
Warranty Information
14 DAY WARRANTY AFTER YOU RECEIVE YOUR ITEM
We make returns as quick and painless as possible. You must contact us within 14 days of receiving your item and tell us if you want an exchange or money back. 

MONEY BACK:
If you decide on money back we will fully refund your total amount after we receive the returned item. 

EXCHANGE AN ITEM:
As soon we receive the returned item we will send out the new item an adjusted payments according to type of exchange (even exchange, less total amount or greater total amount).

There is NO restocking fees, but all shipping fees for returns or exchanges are the customers' responsibility.